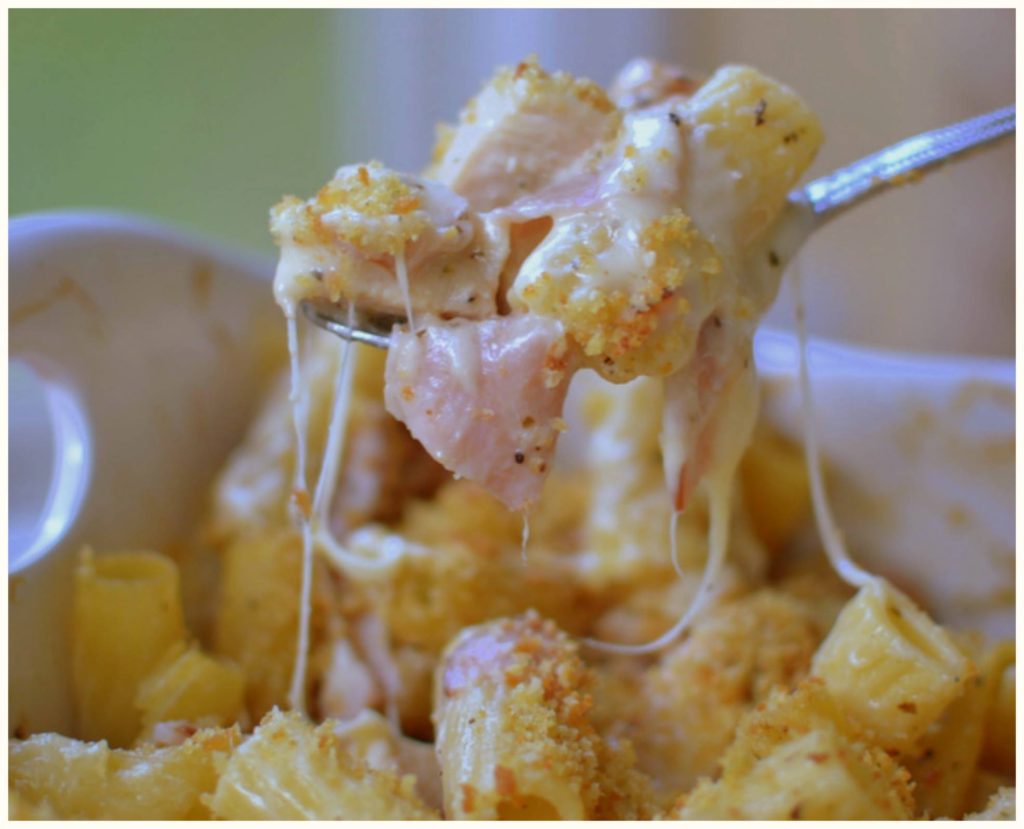 ?️??️  CHICKEN CORDON BLEU PASTA CASSEROLE ?️??️
This Easy Chicken Cordon Bleu Pasta Casserole is sure to become one of your family favorites. It combines tender chicken, sweet ham, Swiss cheese, rigatoni pasta and a perfect blend of spices all in a cream sauce topped with fresh ground croutons.
I mean look at all that gooey goodness of cheese.  That just sets it apart from so many other casseroles.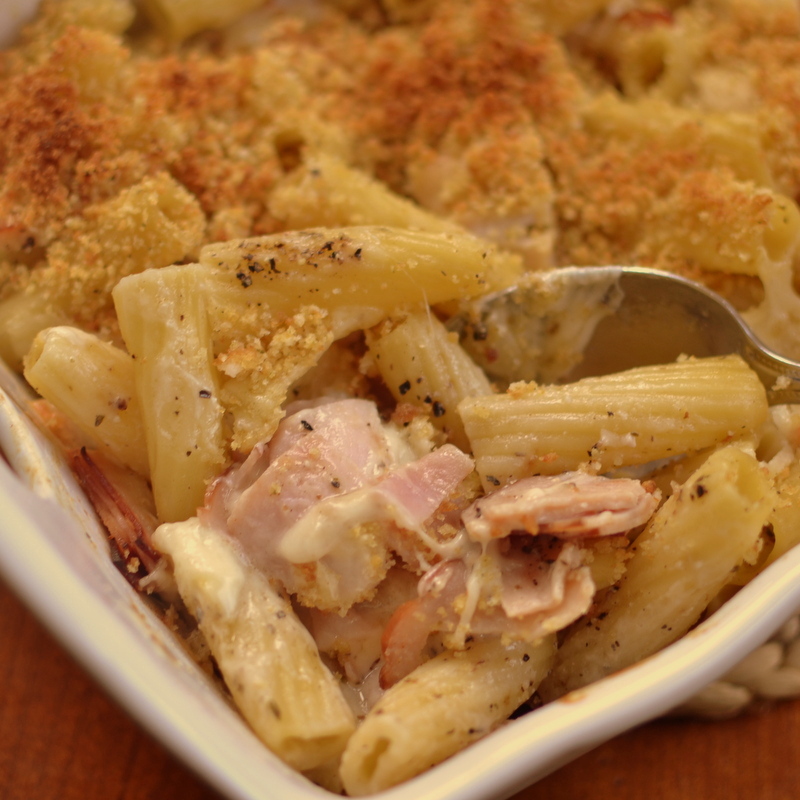 This casserole takes no time to prep!  If you can handle a couple of things at once you can prep this casserole for the oven in about 20 minutes.
 This casserole would be perfect for a party and could be tripled or quadrupled easily.
I also think that it would sit in in a chafing dish, or over a chafer stand well.  I always purchase some low sodium chicken broth for keeping my casserole dishes moist in their chafing dishes during parties.  All they need is about 1/4 to 1/2 cup of chicken broth poured in if they start to get dry over the sternos!
 I also cook the pasta ala dente because the pasta will continue to absorb the moisture from the casserole. This is very important as nobody likes mushy pasta.
MORE RECIPES YOU MIGHT LIKE ===>>>

Chicken Cordon Bleu ~ Low Carb
My easy and low carb spin on Chicken Cordon Bleu.  Normally when I make a meal I always make enough to either freeze a portion for when I don't feel like cooking or  make enough for breakfast or lunch during the week.  This dish freezes and reheats well. But you can cut the recipe in half easy enough if you don't want extra.
Low Carb Chicken Cordon Bleu
Ingredients:
4 larger boneless chicken breasts
8 slices ham
4 slices Swiss cheese
1/3 cup grated Parmesan cheese
2 eggs, beaten
2 tbsp. butter plus more
2 tbsp. olive oil  plus more
salt and pepper to taste
Preheat oven to 350 degrees.
Prepare chicken breasts. Cut chicken breast in half and pound with a meat mallet until about 3/8 – 1/2 inch thin or so. You will have 8 chicken breasts. Sprinkle with salt and pepper.
Place oil and butter in pan and melt over medium heat. I use an All Clad pan that can go from stove top to oven for this.
When oil and butter is hot, dip one side of chicken breast into egg , then dip into Parmesan cheese and place in hot oil and butter. Lay 2 slice of ham then a slice of cheese over chicken breast. Dip one side of another chicken breast in egg then Parmesan cheese and top other chicken breast .
Cook chicken breast until nicely browned then flip over to cook the other side. The chicken breast will not be cooked through at this point. You will finish cooking in the oven.
When chicken is browned on both sides place pan  in  preheated oven for about 20 minutes to finish cooking chicken. I also add a pat of butter and a tbsp olive oil to the pan before baking  ( or you can place  chicken in a glass baking dish )
Garnish with parsley and enjoy