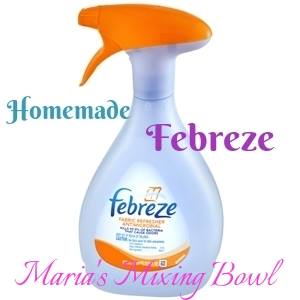 We all love to save money. When you stop and think about how easy this is to make and how much your paying for the same thing, it's just crazy!! 
Febreze does a good job of reducing unpleasant odors. However, if you use it often it can be expensive. Save money by making your own.
Homemade Febreze 
What you'll need:
1/8 Cup of fabric softener (I used Downy April Fresh)
2 tablespoons Baking Soda
Hot tap water
Spray bottle (I used  an empty 27 oz. Febreze bottle)
Preparation:
Using a funnel, pour fabric softener and baking soda into your spray bottle. Fill spray bottle with hot tap water and shake well. Don't forget to twist the nozzle over to the LOCK position.  Spray  all over everything that you want smelling clean and fresh!!
Store-bought Febreze: $5.59
Homemade Febreze: $0.15
Total Savings: $5.44 OR 97.3%!