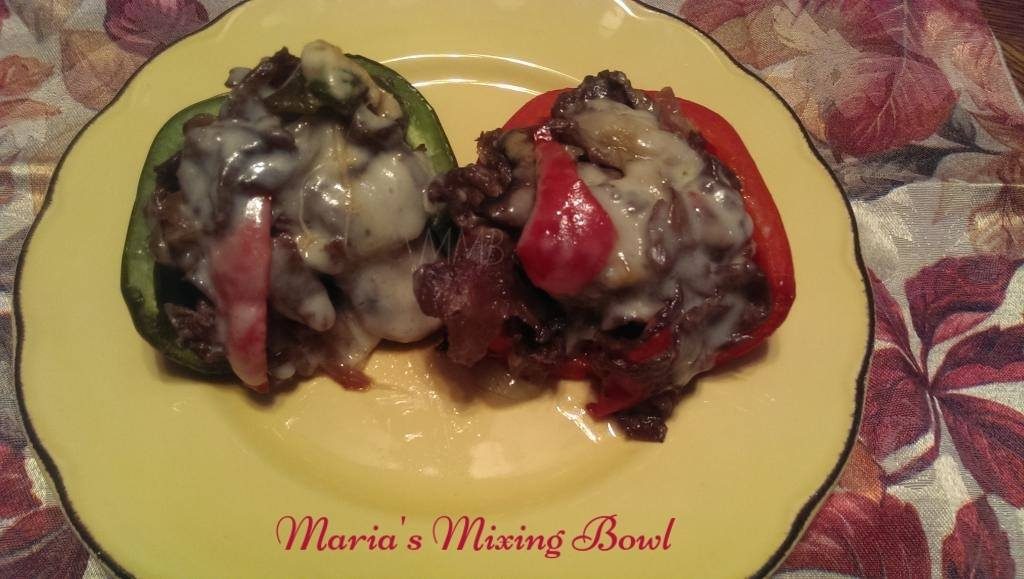 This is a great way to eat your Philly Cheese Steak and keep to your low carb diet!  Even if you aren't on a low carb diet , these are delicious!!  I use red and  green peppers.  You can use whatever color you like. I like the red peppers better since they are sweeter
Philly Cheesesteak Stuffed Peppers ~ Low Carb
Ingredients
2 extra-large green , red, yellow or orange  bell peppers
3 tablespoons extra virgin olive oil, divided
1/4 cup heavy cream
3-4 oz shredded cheddar cheese
1 medium onion sliced
The tops of the peppers you are using sliced
8 ounces fresh mushroom sliced
1 ½ pounds shaved steak, see note
4 slices provolone cheese
Salt and Pepper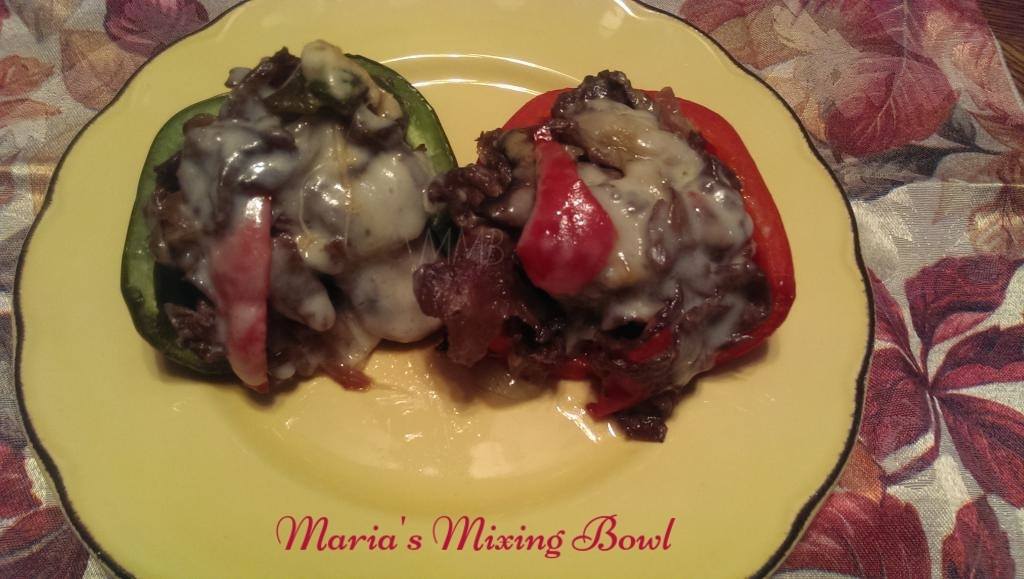 Instructions
Heat oven to 350
Cut peppers in half, cutting the tops and cleaning peppers.
Use a small baking sheet and put peppers on the sheet and bake covered with foil for 15-20 minutes.
In a small sauce pan over medium heat, heat cream and cheese just until cheese melts into cream. Make sure you don't over cook this!!  Stir and set aside.
Heat pan  to medium high and add  1 1/2  tablespoon of oil.  Add steak and toss and cook until no pink remains.  Add salt and pepper to taste.  Do not to crowd the pan too much and cook in two batches if necessary so the meat browns and doesn't steam. Remove to a plate .
Heat 1 1/2 tablespoons of the oil over medium high and add onions. Cook for two minutes and add red pepper and mushrooms and lower heat to medium. Cook stirring often until the vegetables are cooked and starting to caramelize, about four more minutes. Add salt and pepper to taste   Add shaved steak back in and toss for a minute over heat then removeI
Add cheese sauce and mix thoroughly.
Put 1/4 of the steak mixture in each pepper half.
Place in oven for 10 -15 minutes  to continue cooking
 Next cover with a slice of provolone cheese. Place back in oven just long enough to melt cheese, about 3 minutes.