Print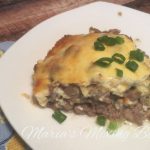 Low Carb White Castle Pie
This is as close as you can get to a  White Castle burger when your doing a low carb diet. But you know what? This is really good!
Boil beef broth and let the dried onion soak for an hour or so.

Brown the hamburger, drain the fat add onions, salt and pepper to taste.

Place  meat in a greased 9-10 inch pie plate. Stir in half of the cheese, then top with the remaining cheese.

Whisk the eggs, mayonnaise, cream and a dash of pepper well; pour evenly over the meat.

Bake at 350º for 30-35 minutes. Let stand 10 minutes before serving.