Print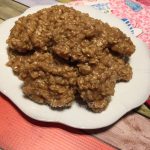 Creamy No Bake Peanut Butter Cookies
Creamy No Bake Peanut Butter Cookies- These cookies were always a favorite growing up. We always made the chocolate version. Then we discovered the peanut butter version and fell in love with it!!
Combine sugar, butter, and milk in a medium saucepan over medium heat.

Stirring occasionally, bring to a boil and let boil for 2 minutes.

Remove from heat and stir in peanut butter and vanilla.

Stir until peanut butter is melted.

Add oats.

Stir until mixture starts to thicken and drop by spoonfuls quickly onto wax paper.

You can make cookies as small or as large as you like.

Let cool for at least an hour.