Print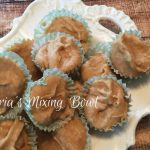 Peanut Butter Maple Fat Bombs
Fat bombs are delicious high-fat, low-carb and low-protein snacks. Fat bombs are high in healthy fats and low in carbs.
Melt peanut  butter, butter, and coconut oil in the microwave for about 2 minutes, stirring every 30 seconds or so or until smooth and fully melted together.

Stir in the maple syrup and stir well to combine.

Pour mixture into bite sized paper liners set inside a mini muffin tin.

Refrigerate or freeze until hardened.