Print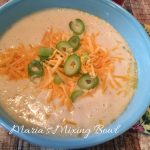 Cauliflower Soup with Garlic and Cheddar ~ Low Carb
This Cauliflower Soup with Garlic and Cheddar is rich, cheesy, garlicy and full of flavor. I guarantee if your not a cauliflower lover you change your mind after trying this soup.
In a sheet pan roast cauliflower with garlic and olive oil at 350 for 20 minutes.

Add chicken stock to a stock pot. Add cauliflower and garlic. Simmer over medium heat until tender and very soft.

Add heavy cream and cheddar cheese. Stir and season with salt and pepper thyme and nutmeg.

Let cool and pour into a blender and process in batches.

Reheat before serving and top with some extra cheddar and chopped scallions and I like adding a pat of butter also.