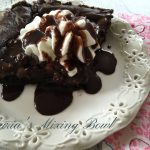 Print
Death by Chocolate Dump Cake
Death By Chocolate Dump Cake is a simple and delicious cake your family will want you to make over and over again. It's one of our favorite desserts.
Preheat oven to 350

Grease a 9 x 13 baking pan.

Add in the milk and stir until just combined.

Pour batter into the greased baking pan.

Sprinkle the chocolate chips on top of the cake evenly.

Place pan in the preheated oven, and bake for about 30 minutes, or until cooked through.