Triple Chocolate Cookies are tender chewy and bursting with chocolate flavor. They're so easy to make and will satisfy all your chocolate craving!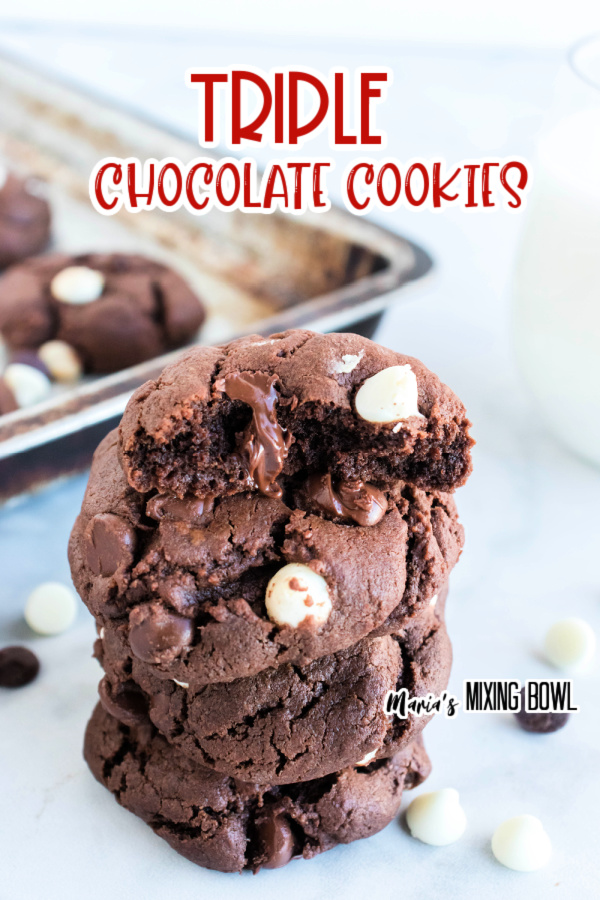 Everybody loves triple chocolate cookies. They may not make your list of top five favorites, but that's possibly because they don't get quite the attention they deserve. Despite potentially slipping some people's minds, virtually every cookie maker has some kind of triple chocolate recipe. The idea of triple chocolate itself is everywhere in the dessert world.
Cookie Recipes That Don't Come From a Box
Triple chocolate can be seen as indulgent, or over the top. It can also be one of the most flavorful and layered cookie tasting experiences. Triple chocolate does not automatically mean triple sweet. It mostly means you get to appreciate the wide spectrum of offerings that chocolate delivers. It's part of the recipe that showcases the choice of the baker.
One of the best things about baking is coming up with your own balance. You decide what goes into your cookies and how much. One baker creates a recipe, and others use that recipe based on the unique characteristics that go into it from the list of ingredients to the carefully selected measurements.
When you make your own cookie mix at home, you will see the value in this and understand what goes into these cookies as well as potentially other cookies you make.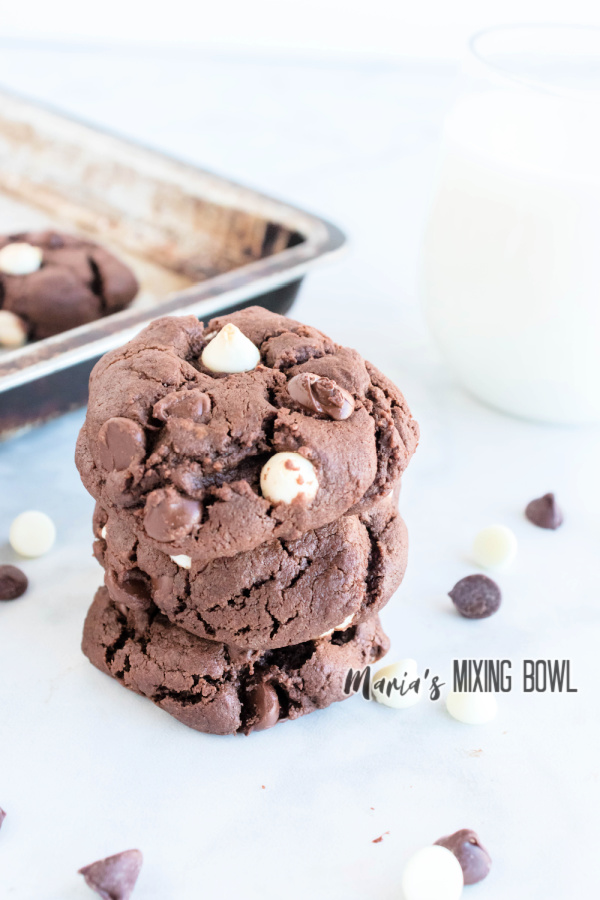 The choice of triple chocolate is very interesting. It's the more indulgent step up from double chocolate, which is another popular choice in cookies, cakes, ice cream, etc. It's not often you see quad chocolate, yet triple chocolate is even easier to spot than double chocolate. That may be because the benefit of triple chocolate is that it provides a range of experiences in one flavor combination, even though you can choose just about any combination of chocolates we commonly use.
Triple Chocolate Chip Cookies
Although these cookies only have two chips, one chocolate one white chocolate, it also has cocoa powder. The cocoa powder adds such richness. These cookies are easy to make which always makes them a winner in my book.
Triple Chocolate Chip Cookies are perfect for cookie exchanges, holiday parties, holiday gifts or anytime you feel like a chocolate fix!
Making a Cookie Baking Mix
As I mentioned earlier, there are benefits to making a cookie mix at home. You could buy baking mixes at the store, or even get those pre-cut slabs of square cookie dough that you simply break and pop into the love. I've made them before by putting the whole thing in without breaking them up. Who can resist a giant cookie?
The point is, that these recipes are fine, but making your own mix is so much more liberating. To understand what goes into a cookie dough other than simply reading the ingredients list, you have to bring those ingredients together in measured volumes to see how your cookies come together.
The result is better tasting cookies now and any time you want to make them late on. Knowing what goes into a proper cookie dough provides a proper base for getting creative with other recipes and finding the exact type and flavor of cookie that you love best.
A basic cookie mix will use varying amounts of flour, baking soda, salt, and sugar. That is what the most essential cookie mix looks like before you add in the butter, eggs, and other ingredients to make the dough. You can go beyond that to make incredible recipes, which is necessary for cookies like these amazing triple chocolate cookies. The way to get the chocolate part in the actual mix is to use cocoa powder. This is one of the three chocolates in the triple chocolate cookies recipe.
Making your own cookie mix is simple and definitely worth it. Especially if it saves you time going to the store. You probably have everything you need already. Just measure it out!
My mix includes additional features that add to the unique flavor and consistency of my triple chocolate cookies which I will discuss further in the types of sugar I use. But first, let's discuss the most prominent feature of this recipe: The triple chocolate.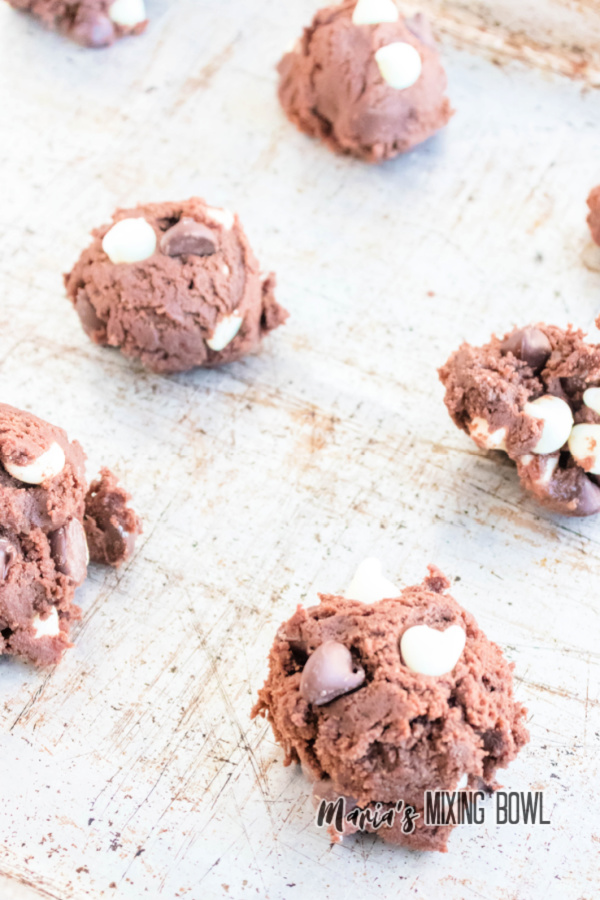 Ingredients for Triple Chocolate Cookies
There are just a few simple ingredients that you will need to make these cookies. You probably already have most of them in your pantry.
all-purpose flour
baking soda
salt
cocoa powder
unsalted butter (room temperature)
granulated sugar
light brown sugar
eggs
vanilla extract
white chocolate chips
semi-sweet chocolate chips
**See the recipe card at the end of the post for quantities and cooking times.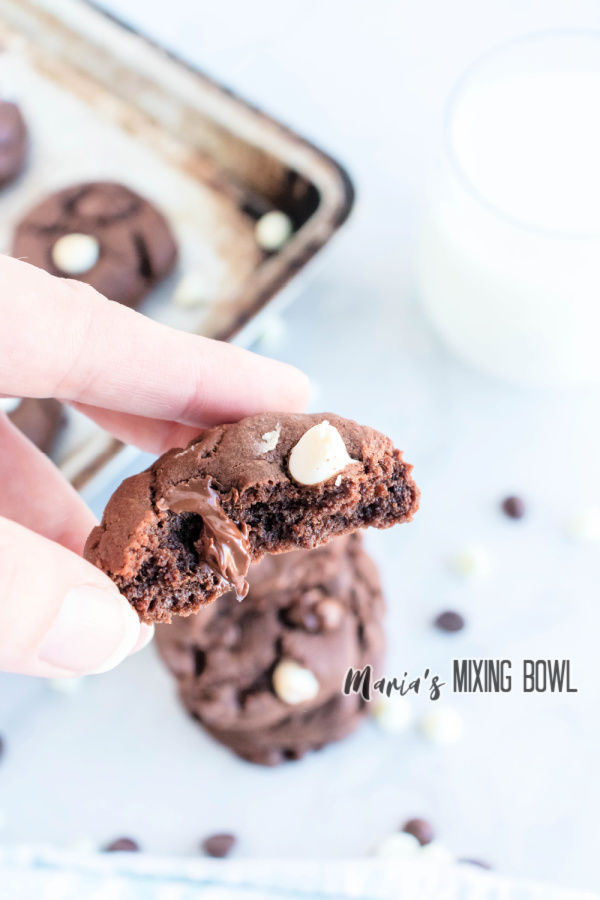 Instructions
Making these cookies is super simple. As you will see there are just a few steps then in the oven they go!
Step 1: Combine the Some Dry Ingredients
Combine the cocoa, flour, baking soda, and salt together in a medium-sized bowl.
Step 2: Combine Sugars and Beat in Wet Ingredients
Beat the butter, brown sugar, and white sugar together in a stand mixer. Mix in the eggs one at a time and beat after each egg is added. Pour in the vanilla and combine.
Step 3: Mix Flour and Chips
Slowly add in the flour and fold in the chocolate chips with a spatula.
Step 4: Bake the Cookies
Use a small cookie scoop and add the cookies to the baking sheet. Leave at least 2 inches between them. Bake the cookies for 10 minutes and let them sit on the pan for 5 minutes. Place on a wire rack to finish cooling and enjoy!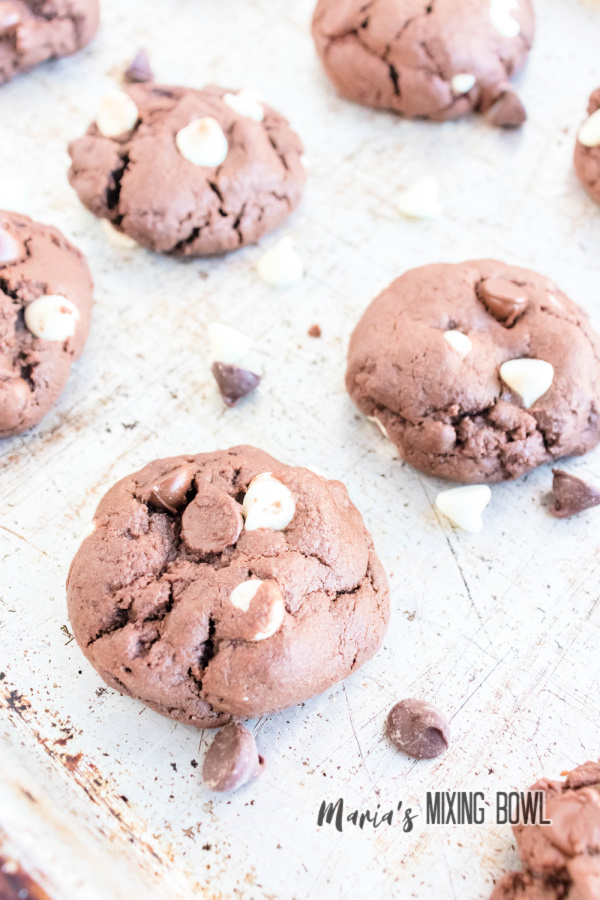 Notes:
● You don't have to chill the dough before beginning, but you can chill it covered for
up to 1 day ahead of time. I recommend chilling the dough in between batches.
● Feel free to add nuts, pecans or walnuts are both really delicious.
● Add 1⁄2 – 3⁄4 cup of milk chocolate chips to make them even more sweet and
indulgent.
Three Kinds of Chocolate (Triple Chocolate Cookies)
Triple chocolate recipes are everywhere. They aren't exactly snowflakes in the sense that no two are alike. However, there are a lot of candidates to choose from for your three chocolate selections. Just a brief rundown of types of chocolate reveals a spectrum of flavors and aromas that are very distinct from one another.
From white to dark chocolate, you have semisweet chocolate, milk chocolate, and even ruby chocolate, which is in a class of its own, but probably falls somewhere between semisweet and dark. Even with these types of chocolate are even more distinctions. Milk chocolate can be. buttermilk chocolate or skim milk chocolate. Dark chocolate gets broken down by the percentage of Cacao present in the chocolate's final processed form.
Needless to say triple chocolate sounds like a lot of chocolate, but it gives you little idea of what chocolate you get with each particular recipe. My recipe for triple chocolate cookies strikes what I feel is the perfect balance. Using cocoa powder as the base in the cookie mix, I add two kinds of chocolate chips to the dough. These are white chocolate and semisweet chocolate. they round out the flavor and give you more of an experience with chocolate without feeling overindulgent. The resulting effect is that it makes you want more. Sorry, not sorry.
PIN IT!!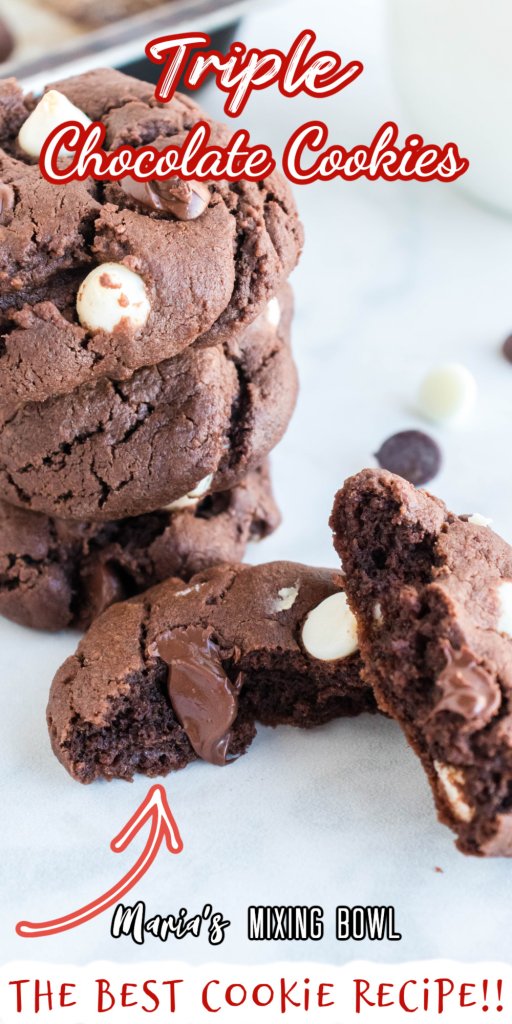 Two Kinds of Sugar
Here's the kicker. As important as those different types of chocolate are, the real nuts and bolts of the mix for these triple chocolate cookies are the sugar. Most great cookie recipes will have some combination of white granulated sugar and brown sugar. The combination of the two can be experimented with to reach different results.
Flavor-wise the combination of white and brown sugar adds more depth to the flavor profile. It lets you taste more than just sweet. There are qualities to the sweetness that are working together.
In addition to the flavor, what kind of sugar you use affects the overall composition of the cookie. Your cookie could come out more soft and chewy, or more crisp and crumbly depending on what sugar you use or how much white or brown sugar goes into the recipe. This is yet another spectrum of possibilities that can make or break a cookie-based on your personal preferences.
If you like crunchy cookies white sugar is your friend. For softer cookies, use brown sugar, which has more moisture in it. Yet again there are even more possible options that can change the final outcome of the cookie because brown sugar can be light or dark and the sweetness it imparts is different depending on which one you use.
I have gone through all of these implications and the potential outcomes of the possible combinations of sugar and chocolate to make the very best version. In this recipe, I use a 3:5 ratio of white to light brown sugar and I love the results. Overall it uses two cups of sugar, so I encourage you to experiment with future batches to find your own "sweet spot".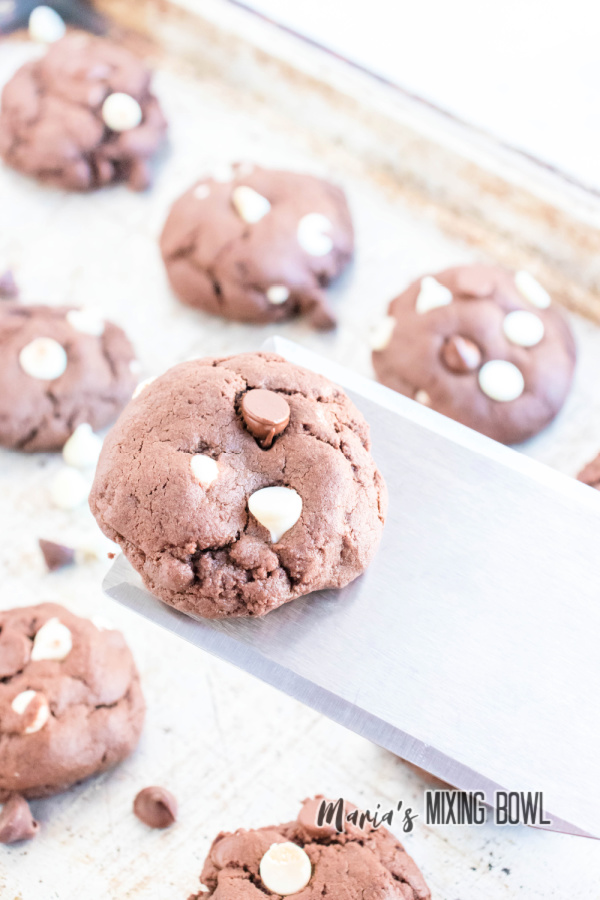 How to Store Triple Chocolate Cookies
Storing triple chocolate cookies is easy. They are safe to keep in a cookie jar for a couple of days at room temperature, but It's best to keep them in a resealable back to preserve the freshness. There is no need to refrigerate cookies, but refrigeration can prolong the freshness up to two weeks.
You can also freeze the cookies if you want to save them for a longer period of time, but before you put them in the freezer, be sure to wrap them tightly and lock out any moisture so they don't get freezer burn and ruin the incredible composition of these sweet chewy morsels.
You can also freeze the dough of your uncooked triple chocolate cookies! Imagine having premade cookie dough on hand for this tasty recipe. The dough can freeze for the same length of time as the baked cookies, which is about 6 months. You can really make things easy on yourself by pre portioning the cookie dough before you freeze it. That way you can make as many cookies as you want, anytime you want!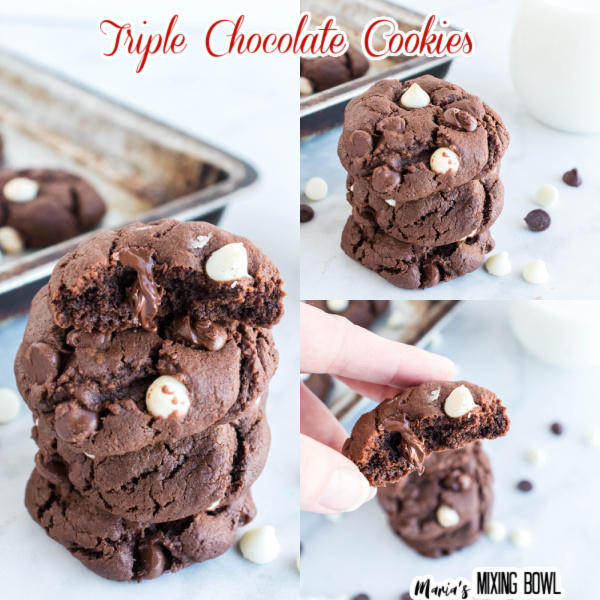 OTHER RECIPES YOU WILL LOVE:
Triple Chocolate Cookies
Triple Chocolate Cookies are tender and chewy and bursting with chocolate flavor. These cookies are a chocolate lovers dream.
Keyword:
best cookie recipe, chocolate chips, chocolate cookies, Cookies, triple chocolate
Ingredients
1 3/4 cups all-purpose flour

1 teaspoon baking soda

¼ teaspoon salt

¾ cup cocoa powder

2 sticks unsalted butter (room temperature)

¾ cup white granulated sugar

1 ¼ cup light brown sugar (packed)

2 eggs

2 teaspoons vanilla extract

¾ cup white chocolate chips

¾ cup semi-sweet chocolate chips
Instructions
Heat the oven to 350 degrees. 

Combine the cocoa, flour, baking soda, and salt together in a medium-sized bowl. 

Beat the butter, brown sugar, and white sugar together in a stand mixer. Mix in the eggs one at a time and beat after each egg is added. Pour in the vanilla and combine. 

Slowly add in the flour and fold in the chocolate chips with a spatula. 

Use a small cookie scoop and add the cookies to the baking sheet. Leave at least 2 inches between them. Bake the cookies for 10 minutes and let them sit on the pan for 5 minutes.

Place on a wire rack to finish cooling and enjoy!