Candy Bar Pretzel Bites
These Candy Bar Pretzel Bites are a fun way to create together in the kitchen. With the holidays all about baking and cooking, you don't want to miss out on these!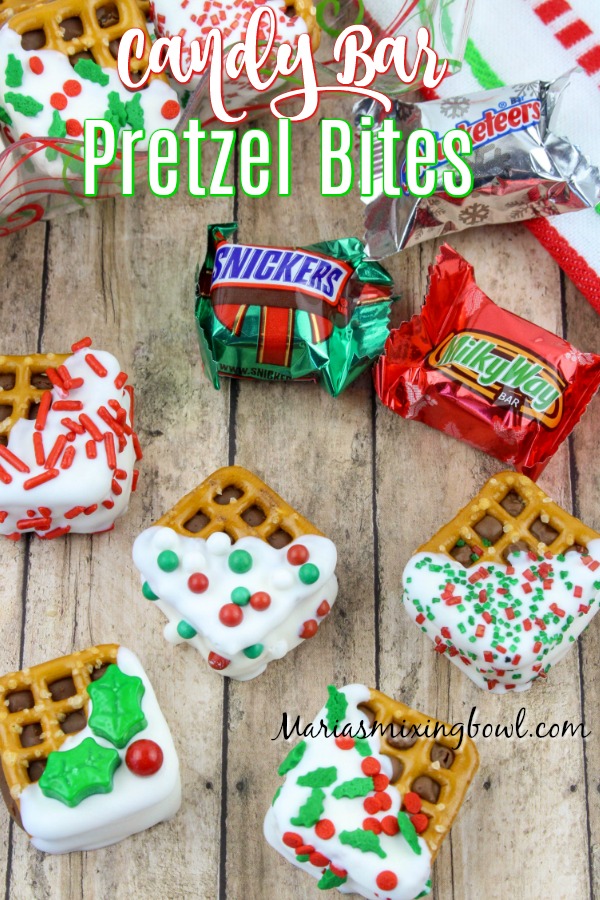 We love making these simple treats. Not only are they adorable to look at but they're super fun to make as well. Plus, they literally take no time at all to whip up. (this is a big positive!)
A delicious holiday treat perfect for gift giving or serving at your holiday party! With the holiday season already being crazy busy, it just makes sense to have a recipe or two in your back pocket that doesn't take up a ton of your time. Trust us on this one…this is one that you're going to be making over and over again.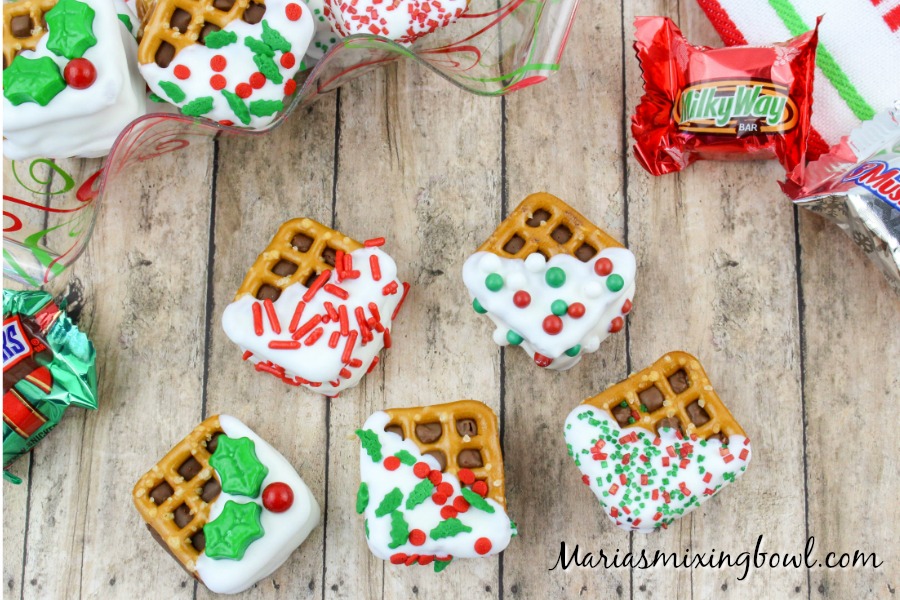 Candy Bar Pretzel Bites are so easy to make you can easily double or triple this recipe and give out some as gifts when you visit friends during the holiday season.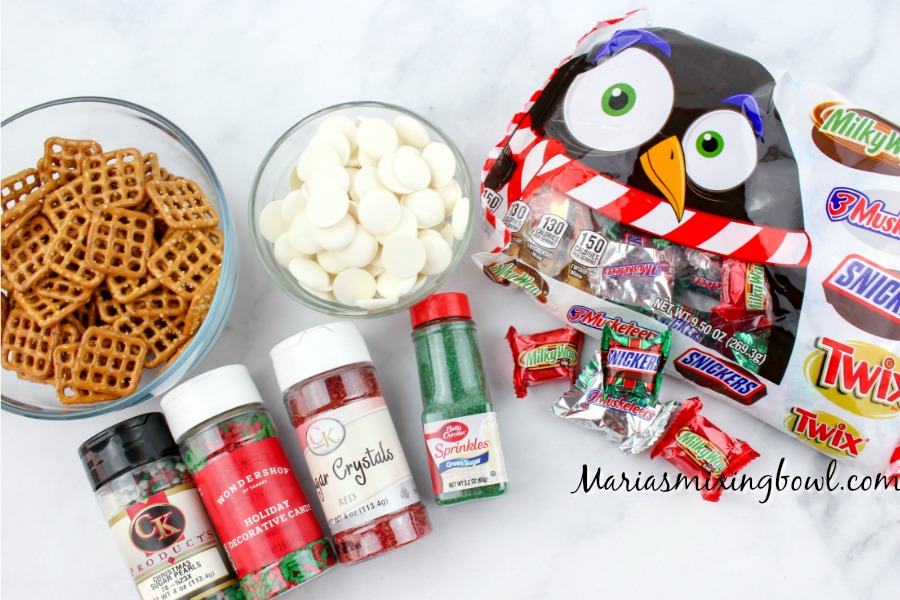 Does it matter what type of candy bars I use?
Not at all. You use whatever candy bars you love and never get to enjoy. (it's the holiday season – spoil yourself!) Just find some mini candy bars and have fun with them. (and we always buy extra because we end up eating most of them before we even get through with the recipe!) We just love using the different ones like variety pack because you get a different flavor in every pretzel bite.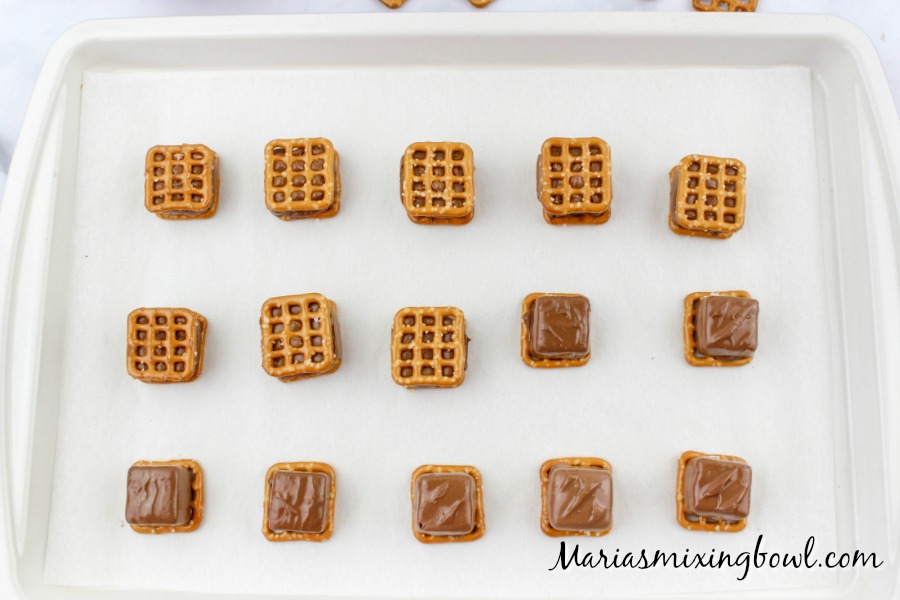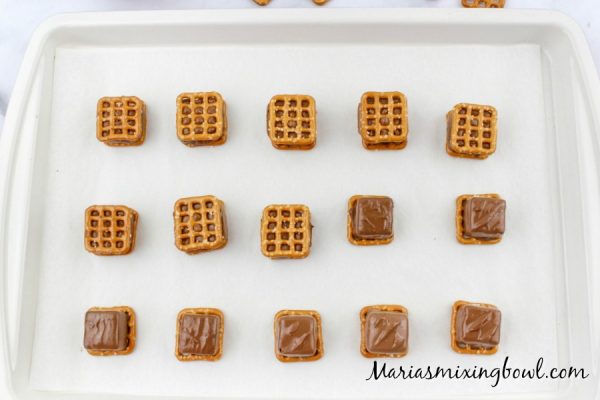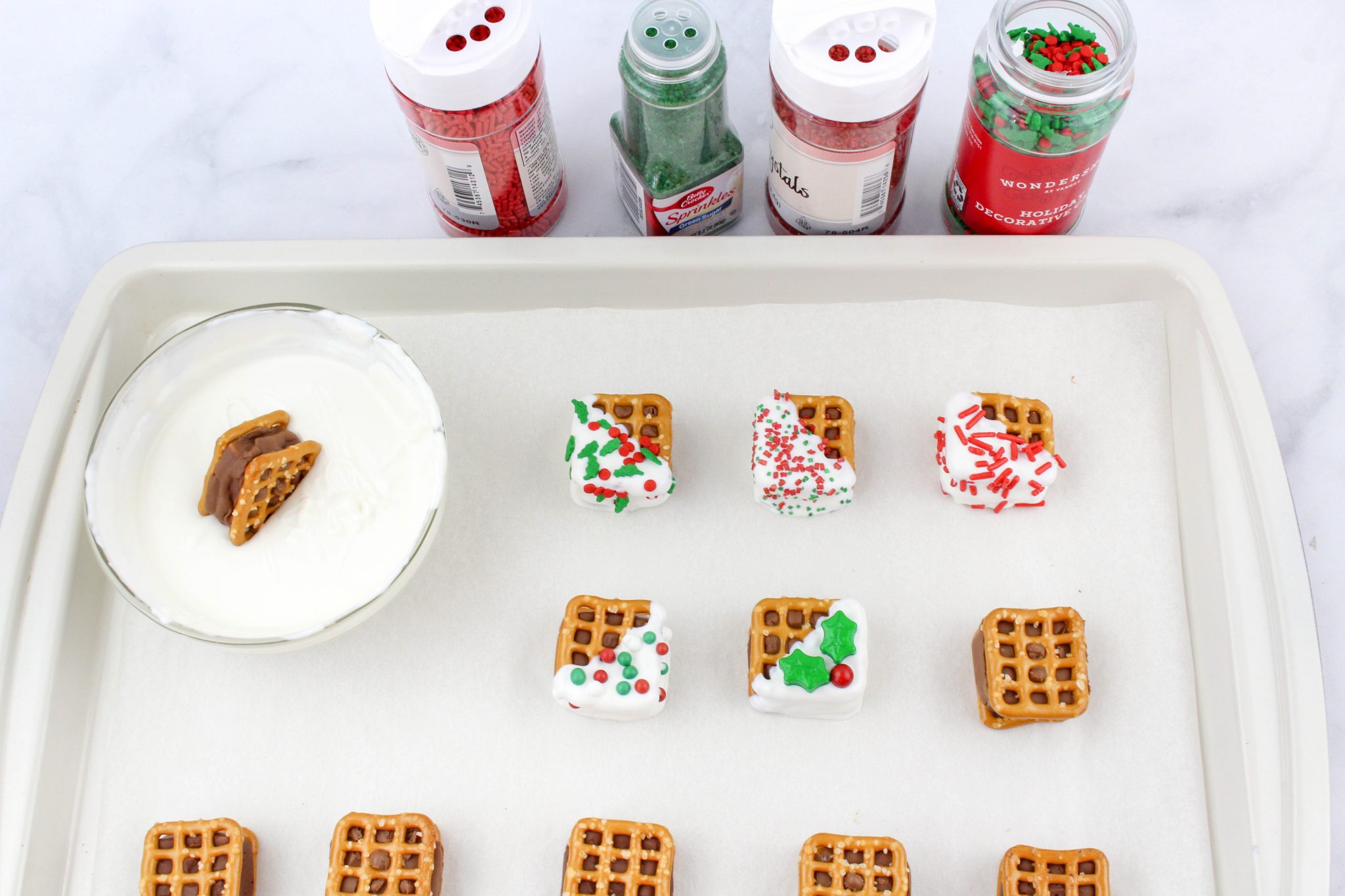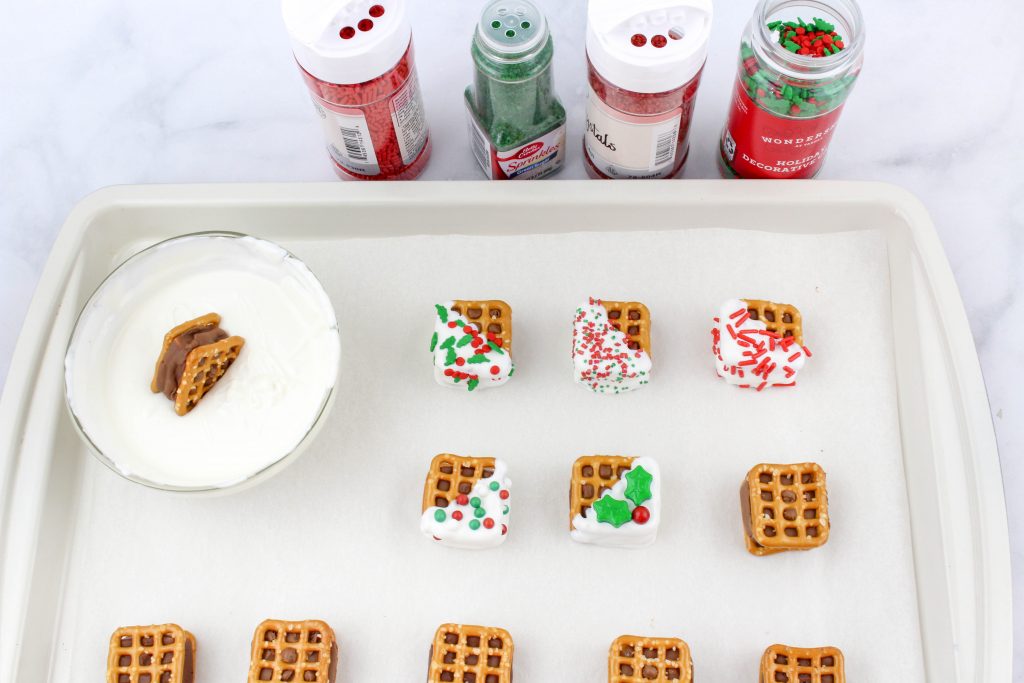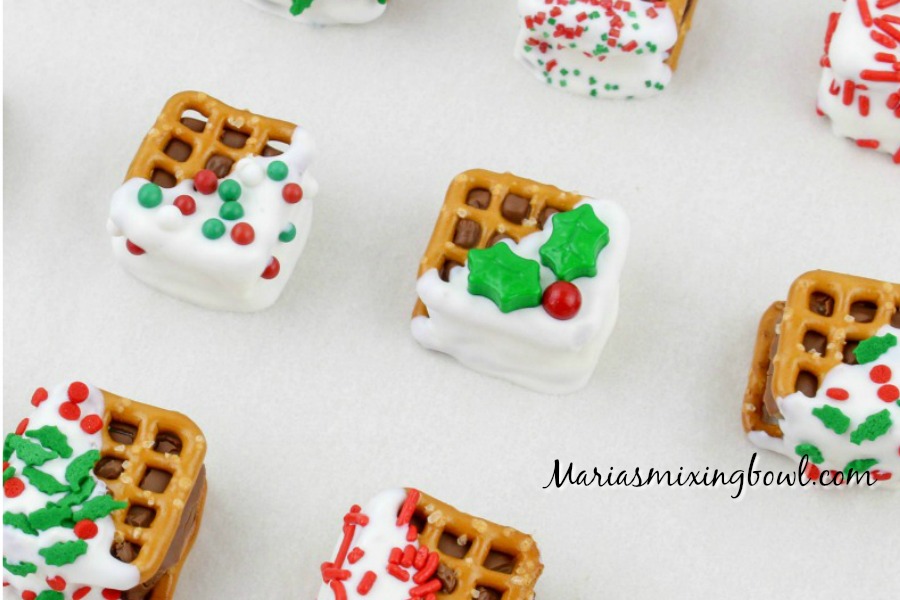 PIN IT!!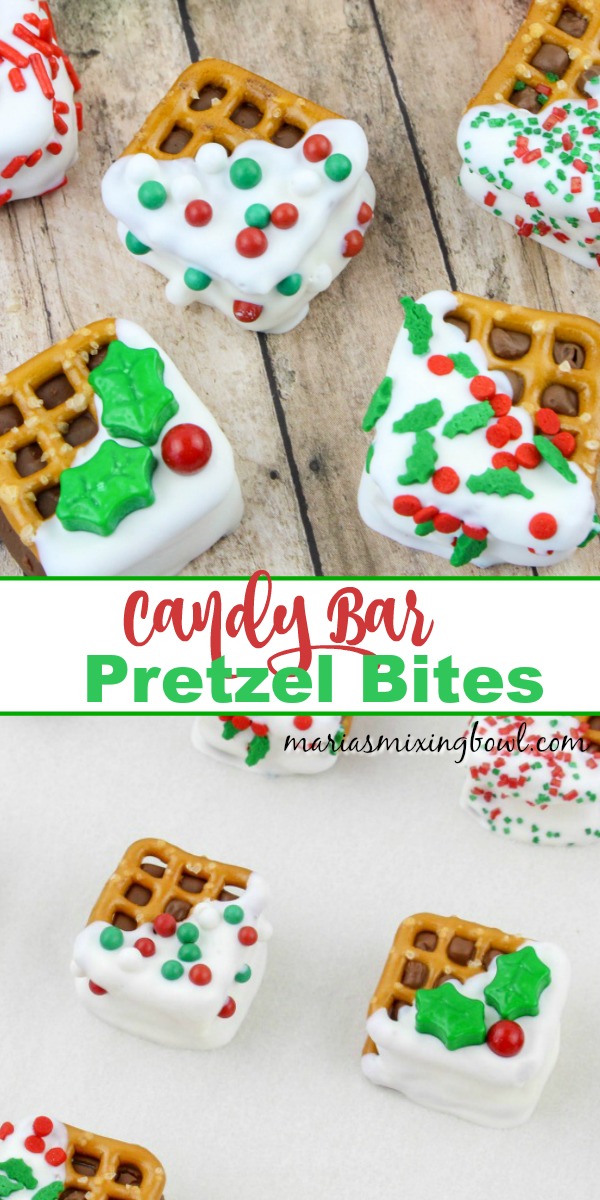 How do you store these Chocolate Pretzels once done?
You're going to need to make certain that you keep them in an airtight container. Pretzels are the worst about getting soft easily just from being exposed to air. Get a bag or container with a lid and keep it sealed tight. As long as you do that, these treats should last for several days without any sort of issue.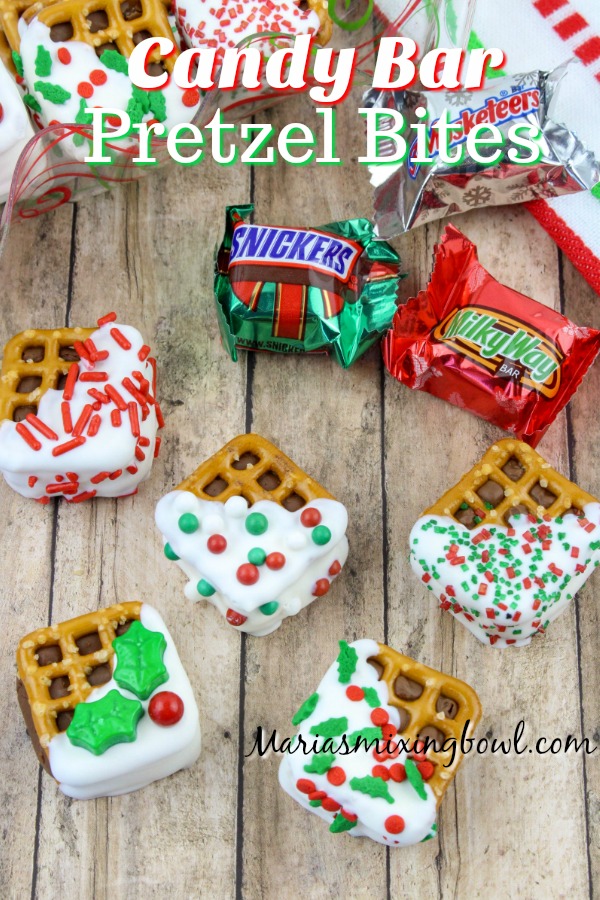 Now that you've seen just how simple this recipe is, think about making some up and sharing them with your family and friends as well. Talk about the perfect dessert that also makes a really awesome homemade gift, too. Who wouldn't want to sit down and enjoy bite after bite of this yummy treat? They're handheld and a perfect bite-size!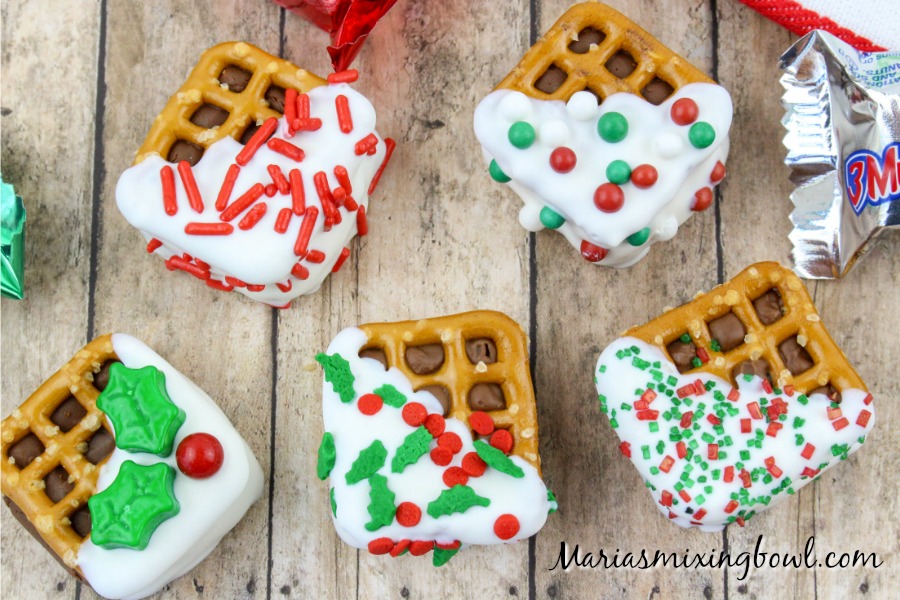 OTHER TREATS YOU WILL LOVE :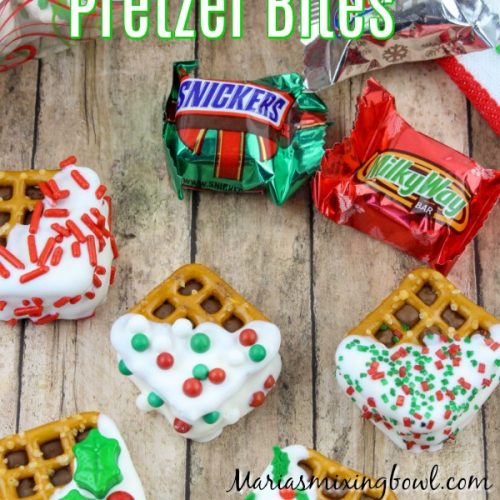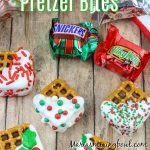 Keyword:
pretzel bites, candy bar bites
Ingredients
40-50

Pretzel Squares



1

Cup

White Chocolate Wafers


Mini Candy Bars (Milky Way, Snickers, & 3 Musketeers)


Assorted Christmas Sprinkles


Instructions
Pre-heat oven to 300 degrees.



Place pretzels on a parchment lined cookie sheet and add one chocolate bar on top of each pretzel.



Place in oven for 4 minutes. Take out and immediately add a pretzel square to each one. Push down slightly.



Let chocolate harden before the next step.



Melt chocolate according to package directions. Dip each pretzel sandwich into the chocolate about halfway. Sprinkle with Christmas sprinkles. Set back on the parchment paper and let dry!



Enjoy!!

*Makes 20-25 pretzel sandwiches!


Recipe Notes
You can easily double or triple this recipe and give these as little gifts for the holidays or change the sprinkle for any time of year like Easter or Valentines Day! These are so versatile!