Banana Pudding Layer Cake
This Banana Pudding Layer Cake is everything you want in a cake. Super moist and scrumptious! You will LOVE this cake.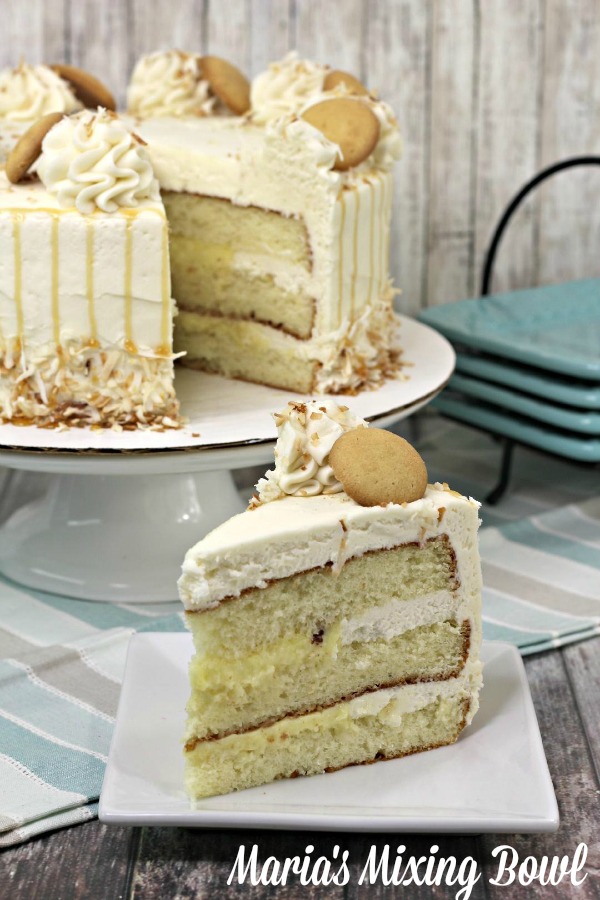 There is something about banana pudding desserts that just brings back comforting childhood memories. Anything with pudding and cake is a winner with our family.  We are not ashamed to say we probably like cake more than we should and probably make cakes especially easy ones like pokes cakes way too often. Afterall they usually just require a cake mix some holes and pudding and a whipped topping and you have yourself a yummilicious cake! But with this cake we needed a bit fancier and prettier and well more party like!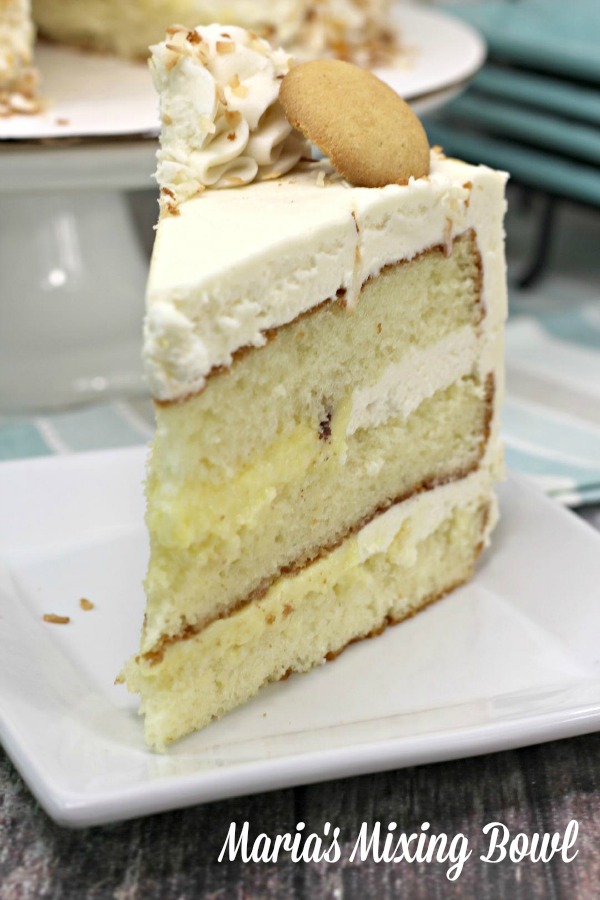 Banana Pudding Layer Cake is such a simple cake. It is made with a cake mix but you can certainly use your favorite homemade cake mix if you like. But everybody knows we like to keep things easy and sometimes when your doing some fancy shmanchy decorating and making layer cakes and making fillings and frostings using a cake mix just comes in handy.   
PIN IT!!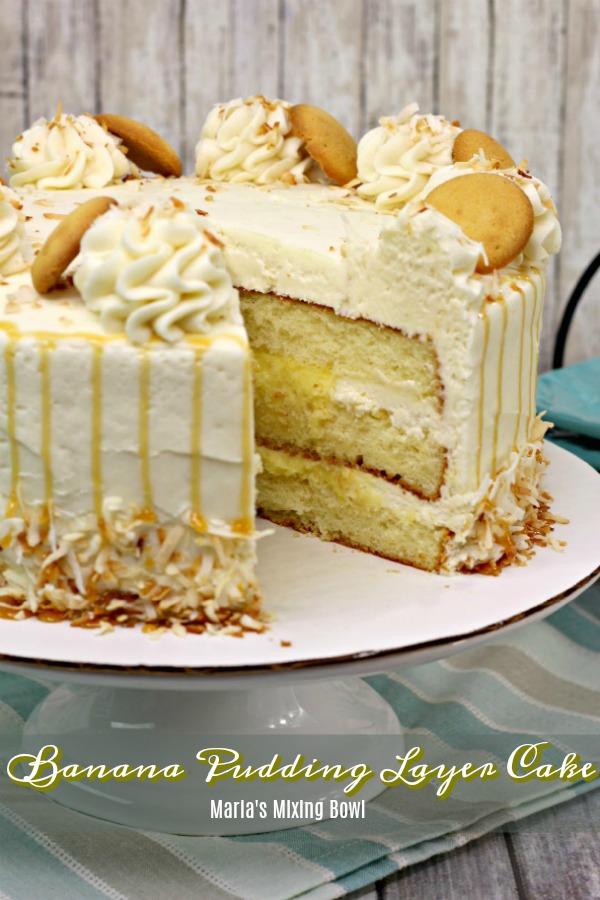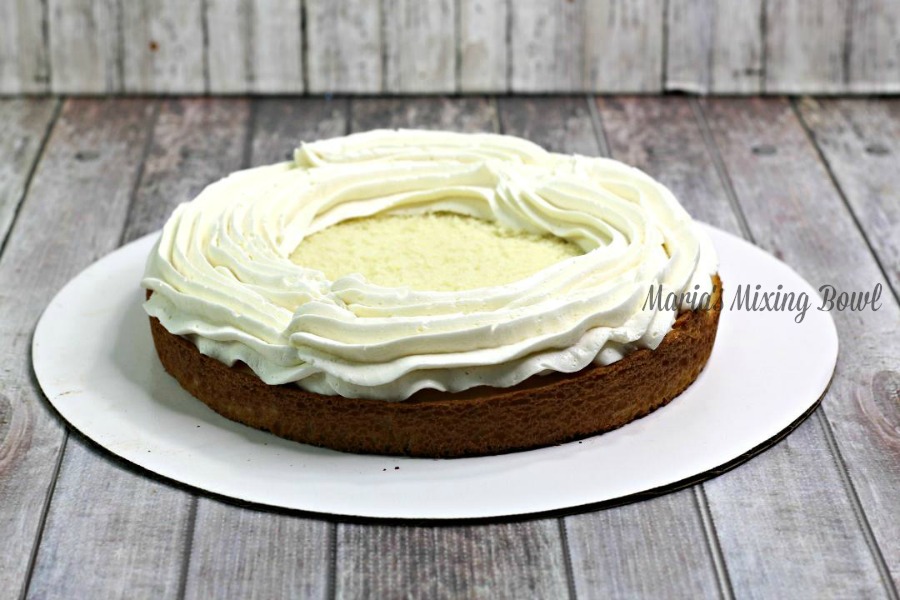 There are very few ingredients in the cake, pudding and frosting. You can change things up if you like and use a cream cheese frosting on this cake if you like also. It really is delicious and gives the cake a nice tangy yet sweet flavor. It goes really well with the banana pudding.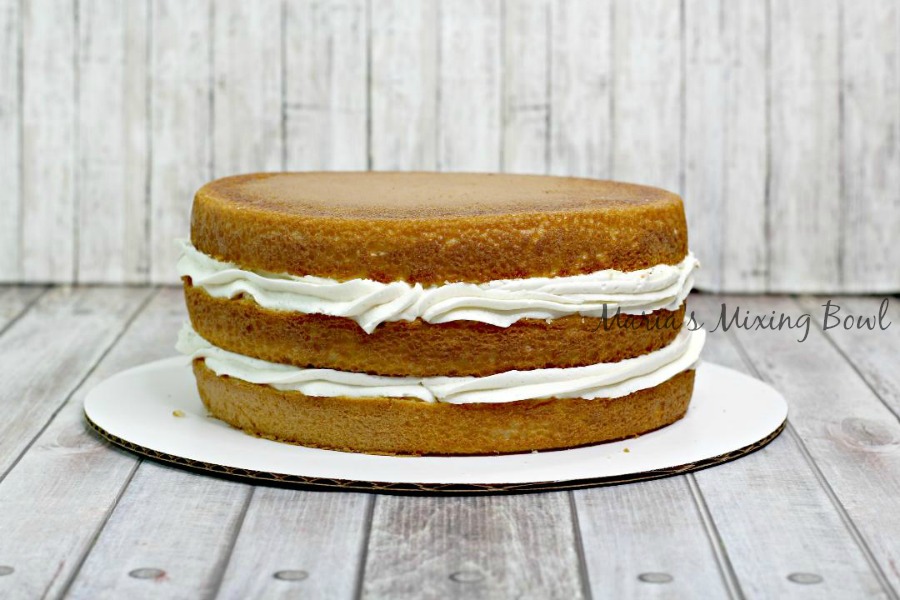 I'm thinking that once you try this cake you will be making it often. It has become a go to for us. Make it as is or change up a few of the ingredients to suit your tastes. That is how we come up with most recipes by changing things up.  When it comes to baking we always follow the recipes as they are at first but then we pretty much make them our own. That's what cooking and baking is all about!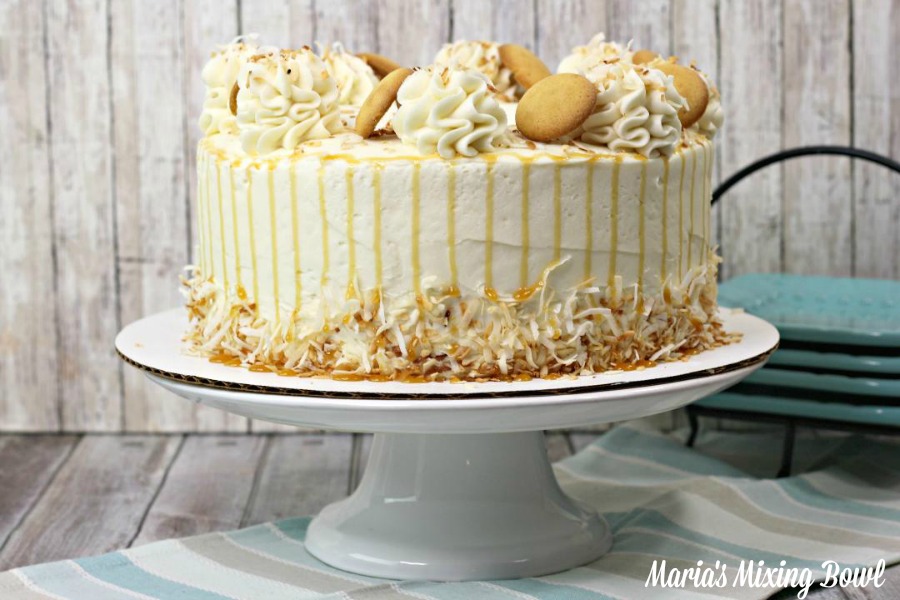 OTHER DESSERT RECIPES YOU MIGHT LIKE: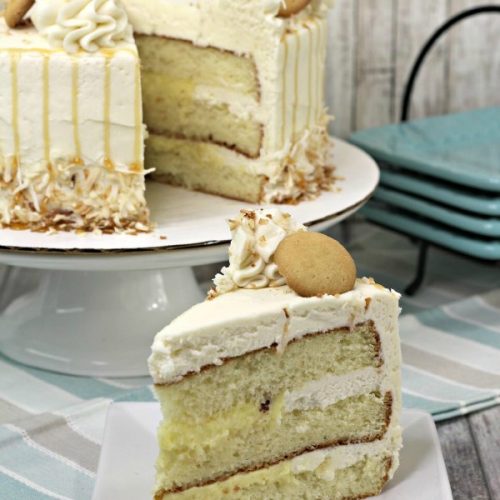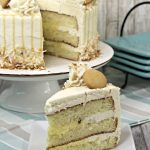 Banana Pudding Layer Cake
This Banana Pudding Layer Cake is everything you want in a cake. Super moist and scrumptious! You will LOVE this cake.


Ingredients
Cake Ingredients
2

boxes of French Vanilla cake mix



6

eggs

2

cups

water

1

cup

oil

3

9 inch round cake pans 



1

10 inch round cake board



1

cake leveler 



2

cups

toasted coconut



1

bottle of caramel sauce



1

squeeze bottle

Nilla wafer cookies


Banana Pudding Ingredients


1

3.4-oz

 box of Instant Banana Pudding



2

cups

whole milk

1

can

sweetened condensed milk



1

8 oz.

 package cream cheese, softened 



1

8 oz

container Cool Whip



1

disposable piping bag


Vanilla Frosting Ingredients


3

cups

unsalted sweet cream butter, softened 



6

cups

powdered sugar

3

tsp

pure vanilla extract

5-7

tbsp

heavy whipping cream

1

large piping bag with a large star tip


Instructions
1. Preheat oven to 350 degrees and spray cake pans with pam baking spray

2. Follow the directions on the back of the cake box to make the batter

3.Divide the batter between the three pans and bake in the oven for 25-30 minutes or until a toothpick comes out clean

4. Once baked, allow to cool completely

5. Using a cake leveler, slice off the rounded tops to make the cakes leveled

Banana Pudding Directions:

1. Using a large mixing bowl, beat together the banana pudding and milk for about 5 minutes.

2. Mix in the Sweetened condensed milk until smooth then mix in cream cheese until smooth.

3. Fold in the cool whip until smooth

4. Scoop the pudding into the piping bag

Frosting Directions

1. Using a standing mixer, beat all the frosting ingredients until creamy and stiff peaks

2. Scoop into the piping bag

Building the cake directions

1. Place one cake round onto the cake board

2. Using the cake frosting, pipe a thick outline around the edge of the cake. This will be the barrier to keep the pudding in the middle

3. Pipe pudding into the middle of the cake layer

4. Place the second cake layer on top of the first one

5. Repeat steps with the frosting and pudding with the second cake layer

6. Place the third cake layer on top

7. Using the remaining frosting, frost entire cake

8. Sprinkle the toasted coconut onto the bottom of the cake

9. Pour the caramel sauce into the squeeze bottle and squeeze it along the top edge of the cake that way the sauce drips down along the sides.

10. Using the remaining frosting in the piping bag, pipe dollops of frosting along the top

11. Sprinkle with toasted coconut and place a Nilla wafer cookie against the frosting dollops

12. Place in the fridge for 1 hour to allow the frosting to harden before cutting into slices and enjoying.